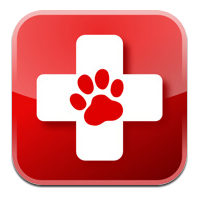 We recommend that all of our clients set aside some time to take a Pet First Aid and Pet CPR Class. Not only are these classes extremely affordable, but, they are extremely informative! As a pet owner, having training in pet first aid and pet CPR may just save your pet's life one day. Please visit the Red Cross Web Site to view the pet first aid class schedule.
Aside from taking a pet first aid and CPR course, it's also important to have a pet first aid kit on hand. You can either purchase a commercial pet first aid kit or put one together yourself. (We recommend putting your own first aid kit together, so that you know what's in it, and so that you can tailor it to your pet's specific needs.)
Putting together a pet first aid kit (which can also double as a human first aid kit!) is one of the best things you can do to prepare for an accident or disaster, and doesn't take much time at all. It's also a fun project to do with your kids!
At the very least, your pet first aid kit should contain the following:
Sterile gauze pads (3" x 3" and 2" X 2") and gauze bandage rolls (1" and 2")

First-aid adhesive tape, 1" roll

Cotton swabs (Q-tips®)

Tweezers

Scissors

Plastic freezer/sandwich bags

Small bottle of 3% hydrogen peroxide

Styptic pencil or cornstarch (stems blood flow from minor cuts)

Antibacterial ointment

Antiseptic cleansing wipes

Kaopectate® or Pepto-Bismol®

Antihistamine (Benadryl® or generic equivalent)

Eyewash

Eyedropper

Mineral oil (a lubricant and laxative when given by mouth)

Digital or rectal thermometer in a plastic case

Leather work gloves (to protect you from being bitten)

Latex gloves

Leash

Muzzle

Thin rope

Splint materials (tongue depressor, 12-inch wooden ruler or thick magazine)

Address and telephone number of your veterinarian and the nearest 24-Hour Emergency Center

Phone number for the Animal Poison Control Center: 1-888-426-4435

Phone number for the HUMAN Poison Control center:

1-800-222-1222
Place the contents in a plastic storage box, tackle box or coffee can with lid.
The best medicine in case of a pet emergency is usually YOUR knowledge and preparedness level!
Please visit my web site at: